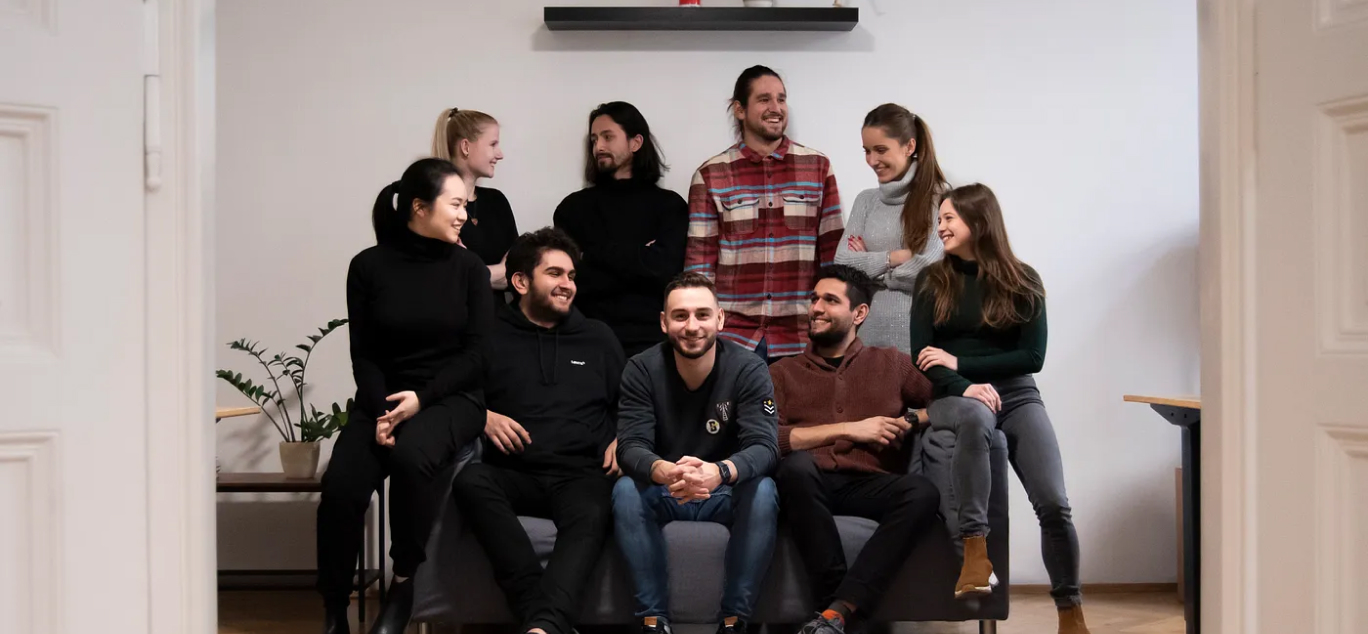 2021 was a successful year for us despite the ongoing COVID pandemic. We gained new clients, added new colleagues, and moved to a new and bigger office.
New people & new opportunities
At the beginning of the year, our team consisted of only 5 people, but we quickly realized that we needed to expand. Throughout the year, we added 11 talented individuals to our team, including designers, a developer, a brand director, a 3D designer, and a marketing strategist. Although some team members left, we ended the year with 14 members, including 10 full-time employees. With our diverse team, we can offer clients a wide range of services, from advertising campaigns and brand building to website development, motion videos, and 3D effects.
And since we have more than doubled in size in half a year, we realized that our current working space is somehow too small for us. It was necessary to look around for something new and bigger, but the task was clear — not to leave Vinohrady at any cost. In the end, it turned out that we moved exactly 170 m further, or a street next door.
Our clients & new clients
2021 was also a very successful year in terms of the projects of our long-term clients. We helped our oldest Danish client, Ageras Group, raise a $73 million investment at a $244 million valuation by directly assisting with the preparation of all investor materials — from presentations to websites and marketing.
On the contrary, our long-term Czech client Mall Pay broke through on the market with both a new contactless payment card and a new brand. We are delighted to have the honor of being behind the design again. "Mallpay practically outsourced all UI and UX design to us. So our goal is to advance their products and improve both user-friendliness and overall visual appearance. We believe that we can bring their products to a world-class level and increase both the use of the application and the conversion rate," says Lukáš, Blackfish CEO.
And last but not least, we are very pleased that the Ostrava health insurance company RBP won two prizes in the largest domestic competition WebTop100. Specifically, first place for digital transformation, where the institution scored with the "my213" and "Virtual branch" applications. We were part of both the design and the marketing strategy.
In 2021, we also established many new job opportunities. Our clientele has grown so much that we are not even able to list them all here.
In the Czech Republic, at the beginning of the year, we started cooperating with the Divadlo Bez zábradlí, for which we built a completely new brand and we are currently helping them with their marketing strategy. The well-known Czech extra league hockey club HC Vítkovice Ridera asked us to create a marketing campaign "Val na Vítky," which is supposed to awaken the right cheering spirit in the fans. We were also honored to work on the Diversity report for the Czech automobile concern Škoda Auto during the year.
Thanks to the recommendation of Preciosa Lighting, we were also asked by their sister company Preciosa Components, for which we are currently creating a new website. The Czech company Bridgewater, which is an expert in HR, also asked us to refresh the entire brand and subsequently the website. Creatives for Flashnews, Mindflow and illustrations for Zásilkovna are also worth mentioning — we will continue to cooperate with these companies in 2022.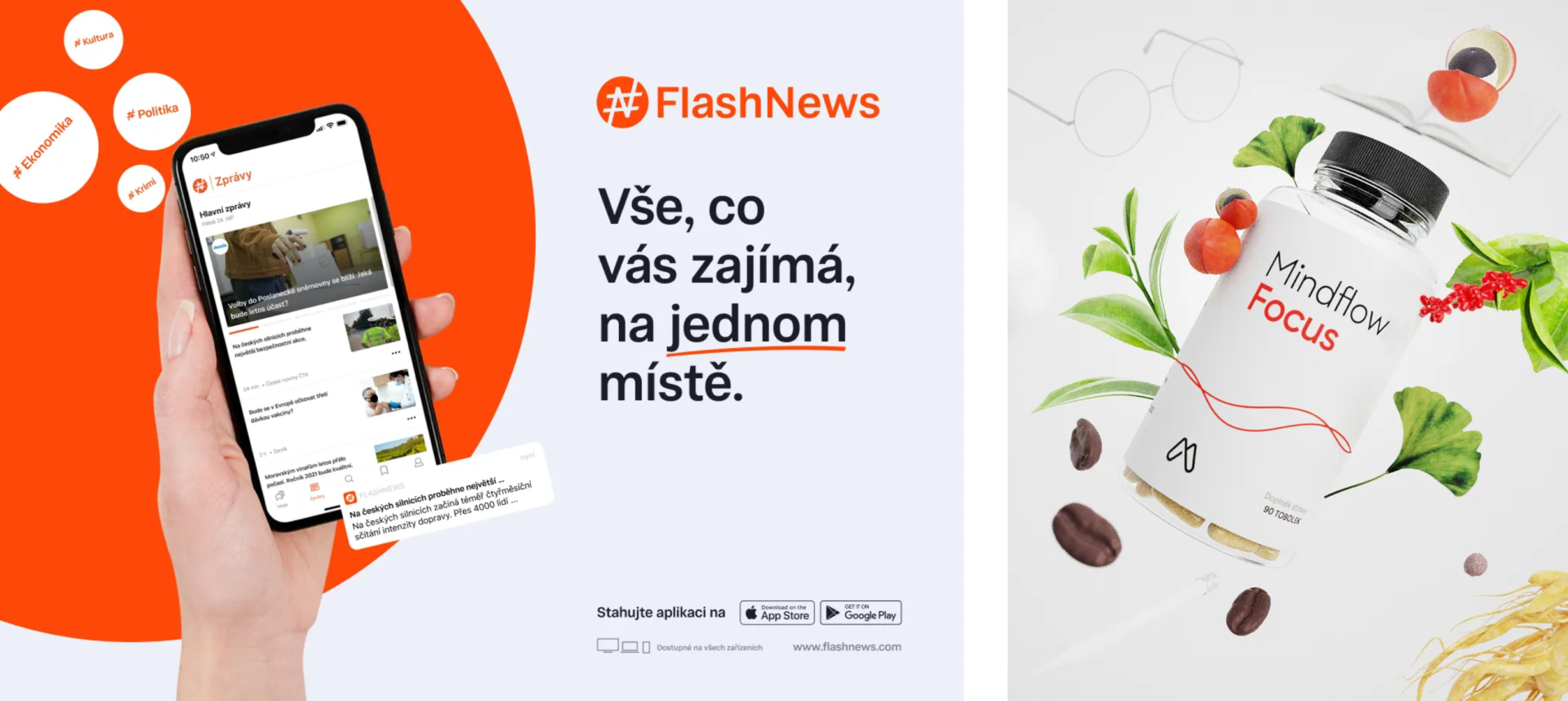 Another big project is a complete refresh of the web design for the Faculty of Physical Education and Sports, Charles University. In the past, for example, we did a smaller project for Copenhagen University, which is why we are pleased that the faculty of the most famous and oldest Czech university approached us because of it.
In the world, we have established cooperation with the Dubai company Avocado, for which we are creating a mobile application for purchasing food, which is supposed to make the work of restaurant operators easier. We were contacted by Hudson, a digital agency focused on e-commerce, with whom we have been cooperating for a long time and together we are also thinking about closer coherence. We also entered the new year in cooperation with the Danish company Abzu.ai.
Our favorite work tools?
"We have improved our workflow by using the ClickUp tool, which we currently use for all planning, CRM and an overview of people's capacities. We use this tool more and more comprehensively to make our planning as accurate as possible. Since it can be integrated with Harvest (a time tracking application), we have achieved a great "workflow" symbiosis. Each task can be automatically assigned and we know exactly which task, who worked and for how long. I think that this year, in general, the optimization of everything will be even more precise and we will be able to save and not waste human and financial resources. For the client, it follows that he will receive a perfect timing estimate and an accurate report of the time spent," explains Lukáš, Blackfish CEO.
Growth & Next steps
At the end of 2021, our turnover almost doubled, the year-on-year growth was almost 40%. This means that while in 2020 our turnover was 5.6 million CZK, in 2021 the resulting turnover was 8.5 million CZK. Our company is still in profit and we have big plans for the next year (turnover target of 13-14 million CZK), so keep your fingers crossed for us.
Increasing the turnover is not the only goal, the plan is also to strengthen the position in our beloved Denmark, where we would like to have one person permanently in the future. We are also planning to expand to the US. Specifically to Austin, where our new company UpGlow is based. And just like last year, this year too we want to expand to one new market within Europe (Norway, Sweden, Switzerland or the UAE).
We also enter 2022 with one new thing — Lukáš becomes our CEO, while Vít will focus more on the client area and business development. And to top off the news, we are working on a complete rebranding of Blackfish and expanding our team with a marketing department.
A lot of interesting things await our team, as well as potential newcomers! The plan is not only team building in Spain, Portugal or Croatia, where we would rent a villa for a month, where we plan to surf not only the Internet. The goal is also to create a "Blackfish Lab", where we will share ideas together or create projects in the form of hackathons.
And finally, in March, an article about us was published on Czechcrunch, so if you still have time and desire to read something, here it is:
https://cc.cz/cesti-blackfish-dobyvaji-dansko-tamnimu-startupu-póžigli- to-invest-73-million-dollars/.